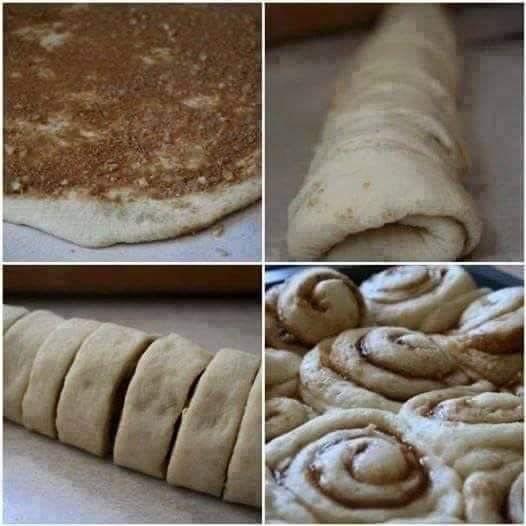 Ingredients
2 cups Bisquick mix
2/3 cup milk
1 egg
1/4 cup brown sugar, packed
1/4 cup granulated sugar
1 tablespoon cinnamon
1/2 cup chopped nuts (optional)
1/4 cup butter, melted and cooled
1/4 cup butter, melted
1 cup powdered sugar
1 teaspoon vanilla extract
How To Make Easy Bisquick Cinnamon Rolls
Preheat your oven to 375°F (190°C). This optimal temperature ensures your cinnamon rolls will bake evenly and rise to fluffy perfection.
In a large mixing bowl, combine 2 cups of Bisquick mix, 2/3 cup of milk, and 1 egg. Stir until a soft dough forms. On a surface sprinkled lightly with additional Bisquick mix, knead the dough gently about 10 times.
Roll the dough into a rectangle, approximately 12×9 inches in size. Brush the surface with 1/4 cup of melted and cooled butter, covering it generously.
In a small bowl, mix together the brown sugar, granulated sugar, and cinnamon. Sprinkle this sweet mixture over the buttered dough, and add chopped nuts if desired for an extra crunch.
Starting from the long end, roll the dough tightly into a log. With a sharp knife, cut the log into 12 even slices.
Place the slices, cut side down, into a greased 9×13 inch baking pan. Brush the tops with 1/4 cup of melted butter, which will give your cinnamon rolls a beautifully golden finish.
Bake in the preheated oven for 25 minutes or until golden brown. While the rolls are baking, create a delectable glaze by mixing 1 cup of powdered sugar with 1 teaspoon of vanilla extract and 2 tablespoons of milk. Adjust the milk to get the desired consistency.
Remove the cinnamon rolls from the oven and allow them to cool slightly. Drizzle the vanilla glaze over the warm rolls, letting it seep into the spirals.
Serve your Easy Bisquick Cinnamon Rolls warm, and watch as they disappear quickly! These rolls are perfect for a cozy weekend breakfast, a friendly get-together, or simply as a treat to brighten up any day.